ESP32-S2-Saola-1
The ESP32-S2-Saola-1 is a development board for the ESP32-S2 SoC from Espressif, based on the following modules:
ESP32-S2-WROVER

ESP32-S2-WROVER-I

ESP32-S2-WROOM

ESP32-S2-WROOM-I
In this guide, we take ESP32-S2-Saola-1 equipped with ESP32-S2-WROVER as an example.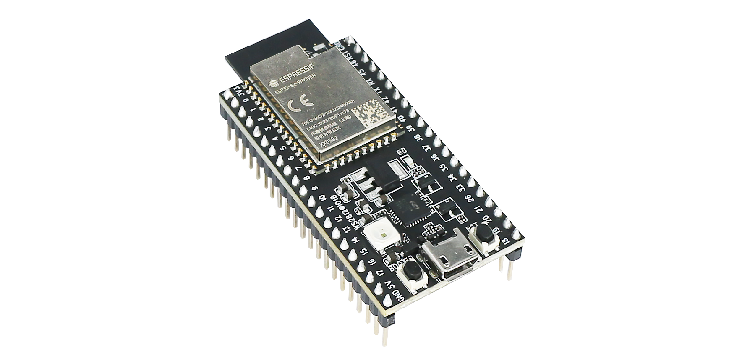 Features
ESP32-S2-WROVER - 4 MB external SPI flash + 2 MB PSRAM

USB-to-UART bridge via micro USB port

Power LED

EN and BOOT buttons

RGB LED (Addressable RGB LED (WS2812), driven by GPIO18)
Serial Console
UART0 is, by default, the serial console. It connects to the on-board CP2102 converter and is available on the micro-USB connector (J1).
It will show up as /dev/ttyUSB[n] where [n] will probably be 0.
I2S
ESP32-S2 has an I2S peripheral accessible using either the generic I2S audio driver or a specific audio codec driver (CS4344 bindings are available at the moment). The generic I2S audio driver enables using both the receiver module (RX) and the transmitter module (TX) without using any specific codec. Also, it's possible to use the I2S character device driver to bypass the audio subsystem and write directly to the I2S peripheral.
Note
When using the audio system, sample rate and data width are automatically set by the upper half audio driver.
Note
The above statement is not valid when using the I2S character device driver. It's possible to use 8, 16, 24, and 32-bit-widths writing directly to the I2S character device. Just make sure to set the bit-width:
$ make menuconfig
-> System Type
    -> ESP32-S2 Peripheral Selection
        -> I2S
            -> Bit Width

The following configurations use the I2S peripheral::
Configurations
All of the configurations presented below can be tested by running the following commands:
$ ./tools/configure.sh esp32s2-saola-1:<config_name>
$ make flash ESPTOOL_PORT=/dev/ttyUSB0 -j

Where <config_name> is the name of board configuration you want to use, i.e.: nsh, buttons, wifi… Then use a serial console terminal like picocom configured to 115200 8N1.